LANAP®
Franklin, TN
LANAP® Laser Therapy – For Treatment of Gum Disease
Dr. Blourchian has made a commitment to your health by the use of the LANAP® (Laser Assisted New Attachment Procedure) Laser Therapy:
LANAP® is a laser assisted procedure that results in true periodontal regeneration as well as new bone growth and gum tissue reattachment. LANAP® protocol offers a less painful, more successful treatment alternative to conventional surgery. It targets the source of the inflammation without damaging or removing any healthy gum tissue.
Only 3% of adults in the US with diagnosed moderate to severe gum disease will accept and receive treatment for gum disease, mostly due to fear or anxiety. It is estimated that 80% of Americans suffer from some degree of gum disease, making it one of the most common diseases in America. Failing to treat gum disease can lead to receding gums, loss of bone and eventually tooth loss.
Patients who have dental anxiety or are afraid of traditional gum surgery have found that LANAP® is an excellent alternative to the conventional scalpel surgery. The procedure is minimally invasive; therefore, it decreases post- operative pain and reduces recovery time. LANAP® is the only laser assisted protocol scientifically proven to regenerate both soft tissue and bone.
The LANAP® protocol is typically performed in a dentist's office under sedation with local anesthesia. Dr. Blourchian will complete periodontal charting, take x-rays and diagnose the extent of the gum disease. A tiny laser fiber (about the thickness of three human hairs) is inserted between the tooth and the gum, and the infection and disease are cleared away without cutting the gums.
Dr. Blourchian is a certified LANAP ® provider, meaning that he is certified to perform the procedure and has completed the necessary course to do so. Only a certified LANAP® provider can perform the LANAP® protocol. Certified providers are required to complete comprehensive, clinical, hands-on, dentist-to-dentist training over the course of a year at the Institute for Advanced Laser Dentistry (IALD). This in-depth training ensures that doctors are skilled to perform the LANAP® protocol. At the conclusion of training, the clinician is awarded a LANAP® Proficiency certificate.
safe
anxiety free dental experience
no drills and scalpels
in most cases no anesthesia
Dr. Blourchian can make your dental experience anxiety- free. Call today to schedule a free consultation at 615-295-8290.
Benefits of LANAP
Laser Assisted New Attachment Procedure
LANAP is easy- there's no cutting and no suturing.
There is much less bleeding, swelling and discomfort than with standard surgery — during and after the LANAP procedure.
There is Reduced risk of infection
It takes less time than traditional surgery. It could take as little as one treatment visit to our office and two follow up visits. Traditional surgery could require four sessions of about one hour each, with subsequent visits for suture removal and additional check-ups.
LANAP gives comparable and in some cases better results than traditional surgery.
There is less than 24 hour recovery period, so you won't lose time from work.
LANAP is safe for patients with health concerns such as diabetes, HIV, hemophilia, or those taking medications such as Plavix or aspirin.
What is the LANAP® Laser Therapy Procedure?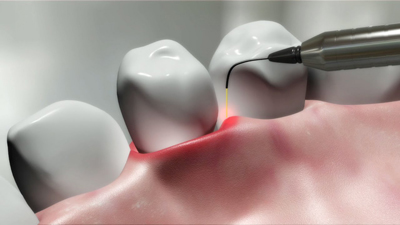 A laser is a tiny beam of very concentrated light . This beam of light brings energy into your mouth through a tiny fiber, to help remove areas of infection and remove gum disease around the teeth with great precision and accuracy.

The laser beam sterilizes the affected area and seals off blood vessels, which minimizes the chance of infection or bleeding. Patients are also much more comfortable during and after treatment with laser therapy. The need for local anesthetic is reduced but it is usually used to make sure that you feel absolutely nothing during the treatment.
Recent Posts
You probably have heard of Invisalign® but might not know how it differs from traditional braces when it comes to teeth straightening. Braces have been the go-to teeth-straightening device for many years. More recently, Invisalign has gained popularity in patients with crowding or spacing issues. Because it looks so different from traditional braces, you may…
Patients who qualify for and choose the Invisalign® system of teeth straightening over braces receive a series of customized clear aligners. These fit snugly over the teeth so as to be nearly invisible to observers. The treatment does not take as long as traditional straightening with braces and is typically more comfortable for the patient…
While metal braces make keeping up with oral hygiene more complicated, routine teeth cleaning is a breeze with Invisalign® clear aligners. It is important to maintain strong healthy teeth throughout a straightening treatment, as tooth decay and gum disease can present serious health concerns. In addition, oral hygiene improves the aesthetic results at the end…