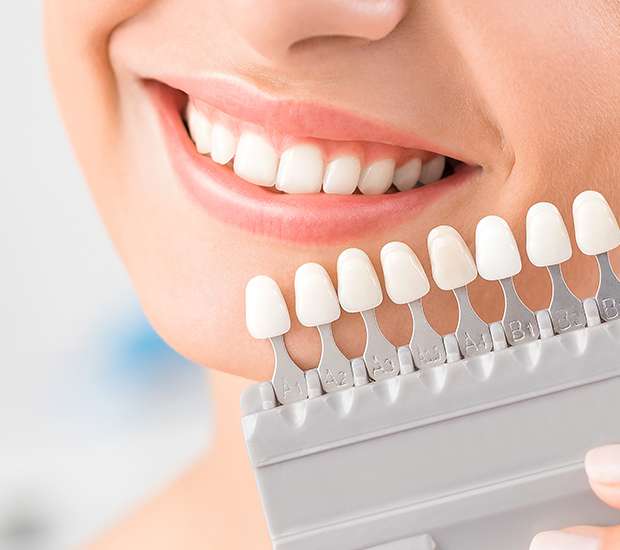 Dental Veneers and Dental Laminates
Franklin, TN
Dental Veneers
We provide dental veneers so that patients can restore damaged teeth or transform their smile into something beautiful. At New Image Dentistry, we often treat patients that have a variety of dental concerns. Some patients visit our Franklin office because they break their tooth, while others are looking to create a Hollywood smile. Most people are candidates for the procedure as long as their tooth structure and roots are in place. If, however, you have a cavity or gum disease, this will need to be treated before we complete the procedure.
If you want to learn more about dental veneers, we recommend that you call (615) 526-2493 to schedule an appointment. We are a provider of veneers and can let you know if they will help you to achieve the goals that you have for your smile.
What is a Dental Veneer?
A veneer is a thin shell that is made out of porcelain or ceramic. The shade of the veneer, along with its shape and size will be made to match your surrounding teeth so that it blends in perfectly.
How is a Dental Veneer Used?
We can accomplish a variety of things using dental veneers. By placing veneers on top of the teeth, we can close gaps, make teeth even in length, cover dark stains and create a uniform looking smile. In this way, veneers can create a smile that rivals the most famous Hollywood stars. The nice thing is that you do not have to be famous to improve your smile. You simply need to call 615-526-2493 and schedule an appointment to see Allen Blourchian.
Franklin, Tennessee Veneers
We also use dental veneers for restorations. When teeth become cracked, chipped or broken, a veneer can restore the tooth to its full functionality. As long as the tooth structure is intact, we can restore the appearance of a tooth while making it possible to eat and speak without feeling any discomfort.
The Procedure
When patients visit our New Image Dentistry offices, we will start by listening to your needs and concerns, then take several photos of your teeth and smile. Next, we review the photos with you to further understand your aesthetic goals for your new smile. We will then take a preliminary impression of your teeth to fabricate a "wax up", which is a wax version of your future smile, and send it to the dental laboratory. Once the wax up is received in our office, we will schedule a second consultation with you to review the wax up. If you approve the wax up, we will instruct the laboratory to fabricate temporary veneers. Temporary veneers are an exact copy of your wax up. This is a trial step we take in order to evaluate your new smile before the final veneers are fabricated. Dr. Blourchian only uses the highest quality dental laboratories for fabrication of dental veneers.
In order to place dental veneers, we will first prepare your tooth by removing a portion of the enamel. This helps the veneer lay flat and in line with your gum tissue. After preparing the tooth, we will secure the temporary veneers using removable glue. While wearing a temporary veneer, it is important to brush your teeth gently and avoid eating any foods that may push it out of place. Since it is secured by removable glue, it can be moved fairly easily. The temporary veneers are worn for a couple of weeks. If any adjustments need to be made before fabricating the final veneers, it is done during the trial period while wearing the temporaries. Once we confirm that everything is perfect, final veneers are fabricated to an exact match of your temporaries.
When your permanent veneers are ready, you will come back into our New Image Dentistry offices so that we can remove the temporary and ensure that the new veneer is a perfect fit. It is typically attached using a water based solution to see how it looks. Patients enjoy their new smile. They are instant, and you can start flashing your smile right away.
Benefits of Dental Veneers
Dental veneers transform our patient's smile, appearance, self-esteem and entire life. This procedure is an excellent solution, since the veneers can transform your smile into one that looks perfect and beautiful. Another benefit is that they are made out of a stain resistant material. This means that your teeth will stay whiter and brighter, even if your favorite beverage is a hot cup of coffee. We can use dental veneers to transform your smile.
Questions Answered on This Page
People Also Ask
Definition of Cosmetic Dentistry Terminology
Allograft

An allograft is a graft of tissue from a donor within the same species as the patient that is not a genetic relative.

Alveolar Ridge

The alveolar ridge is the bony ridge for one of the jaw ridges located on the roof of the mouth or on the bottom of the mouth.

Autograft

An autograft is a graft of tissue from one portion of an individual's body to another.

Bleachorexia

Bleachorexia is when people continue to abuse teeth whitening solutions without consulting professionals, causing significant damage to their enamel and gums in the process.

Cap Splint

A cap splint is a plastic or metallic device that professionals may use to treat mandible or maxillary fractures and cover crowns of teeth.

Cosmetic Dentistry

Cosmetic dentistry is generally used to refer to any dental work that improves the appearance (though not necessarily the function) of a person's teeth, gums and/or bite.

Crown Lengthening

Crown lengthening is a surgical procedure that increases the extent of a tooth structure for restorative or esthetic purposes.

Dental Crown

A crown is an artificial tooth, usually consisting of porcelain, which covers the top of the implant to provide people with an aesthetically pleasing and fully-functional tooth.

Dentin Hypersensitivity

Dentin hypersensitivity is when the enamel wears down on the tooth enough that the dentin faces exposure and will cause great levels of pain when a person applies pressure to the tooth or drinks hot/cold beverages.

Dentist

A dentist, also known as a dental surgeon, is a doctor who specializes in the diagnosis, prevention, and treatment of diseases and conditions of the oral cavity.
Back to top of Veneers and Laminates
Recent Posts
Veneers offer an easy way to address aesthetic and physical problems. Most times, veneers are irreversible because part of the existing tooth enamel is removed so that veneers can be placed. Because veneers are permanent, you should take the time to learn as much as you can about them before you decide to get them.…
Explore additional topics covered on our website: